It is no secret that the coronavirus pandemic has changed the way we approach daily life. From picking up groceries to working remotely, there is no aspect of regular routines that has not been disrupted. One industry that has been especially impacted by the pandemic is housing. Buyers and sellers alike have seen a huge fluctuation in home prices, as well as interest rates. Even though buying or selling a home is a bit different these days, there are several ways to still view homes this holiday season, while staying safe and healthy.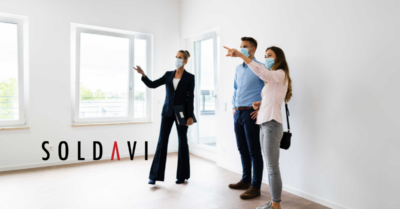 1. Tour Houses Virtually: If there are several homes you are interested in purchasing, first start with virtual tours. Many home-buying sites offer 3D walkthroughs, giving you the chance to see what the home looks like from many different angles, all from the comfort of home.
2. Social Distance: If you have decided to schedule an in-person showing, it is important to maintain social distancing protocols at all times, including when you are interacting with your real estate agent or the seller of the home. It is also advisable not to bring more than one other person with you when you go to do a home tour.
3. Wear a Mask: While this almost goes without saying these days, if you are going to tour a home, make sure to wear a mask inside the home and while you are interacting with anyone outside.
4. Wash Your Hands Frequently: Before entering a home, and after you leave, make sure to wash your hands and use hand sanitizer. It is also important to touch as few surfaces as possible while you are inside touring the home.
5. Wear Foot Protection: When available, use shoe coverings to cover your shoes to help reduce the spread of germs.
6. Stay Home: If you really are not feeling well or have a fever, it is best to wait to do any in-person home tours to protect yourself, family, agent, and the sellers. Instead, opt for a virtual tour or reschedule when you are clear from any symptoms or receive negative COVID-19 test results.
Would you like more information about buying or selling a home during the coronavirus pandemic? Are you ready to find the home of your dreams this holiday season? Contact us at Soldavi today!